Tech Tips
0
The Machinery Lubrication online magazine has proved to be a beneficial resource for me, as they publish many informative, easy-to-read articles, that even a Lubrication beginner, such as myself, can understand. They've recently posted an article entitled "Gear Oil Questions Answered" that has really helped me understand what to look for in Gear Oils, and understand the various Gear Oils Commonwealth Oil has to offer. Here's some excerpts below:
Q: What is the correct viscosity to use in a typical gear reducer?
A: Viscosity selection for gearboxes is a careful balance between load, speed/reduction ratio, gear geometry and operating environment. Like most applications, a good place to start is with the original equipment manufacturer (OEM) recommendations. This information is commonly posted on the nameplate affixed to the outside of the gear casing.
Q: Should I always stick with the OEM's recommendation?
A: The answer to this question is most definitely "no!" While you certainly shouldn't be going against the OEM's recommendations without good reason, extreme ambient operating conditions (e.g. very high or very low temperatures), shock loading or extreme duty cycles, or higher-than-normal load ratings may dictate that a change to the OEM's recommendations is warranted. It's always a good idea to consult with a lubrication engineer before selecting a viscosity grade other than the one recommended by the OEM.
Q: When should I consider using a synthetic gear oil?
A: Synthetic gear oils offer some very real advantages in some circumstances. For example, in extremely low temperatures, a synthetic gear oil will have a much lower viscosity than the equivalent grade of mineral oil. This can be an advantage during cold temperature start-up when channeling can cause temporary lubrication starvation, particularly in splash-lubricated gear drives. Likewise, at higher operating temperatures caused by high ambient temperatures or the process itself, synthetic gear oils will have a higher viscosity than the equivalent grade of mineral oil and will typically resist oxidative and thermal breakdown better than mineral oil. A rule of thumb is to use a mineral oil if the operating temperature is below 160 degrees Fahrenheit, but consider synthetics or premium mineral-based oils if the operating temperature is likely to exceed 180 F. Of course, there are other reasons why a synthetic oil might be advisable, such as for extended oil drain or other operational reasons.
Q: We recently switched to a synthetic oil because of higher operating temperatures. Our lubrication supplier is recommending an ISO VG 460 synthetic in place of the ISO VG 680 mineral oil we've always used. Why the change in viscosity grade?
A: When switching from mineral to synthetic gear oil, it's not uncommon to drop down one ISO grade. The reason is due to the fact that synthetic oils typically have higher viscosity indexes than mineral oils. As a result, when you compare the viscosity of, for instance, a ISO VG 680 mineral oil to that of a ISO VG 460 synthetic, they will have very similar viscosities at 160 F. Before applying this rule, it's important to plot the viscosity-temperature profile of each oil and consider the anticipated operating temperature along with high and low ambient temperatures to insure you select the correct grade for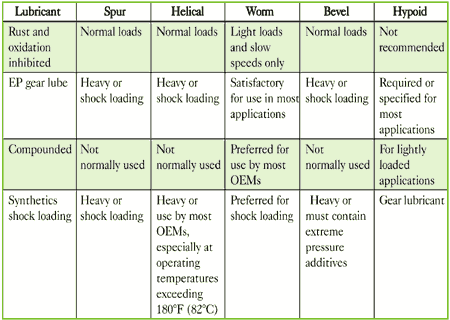 the specific application.
Here's a few tips to help you pick the right Gear Oil based on the use:
To handle increased demands, today's industrial gear oils must contain high-performance additive chemistry. The goal is to keep the lubricant thermally stable and robust enough to ensure that it lasts longer, protects better and performs more efficiently, while at the same time keeping the system clean and carrying away heat and contaminants. This is no easy task. Consider industrial gear oils that at one time were widely acceptable for a given application. Even if these oils meet minimum industry specifications, which can remain unchanged for up to 10 years, they may not be durable enough to protect your equipment.
There are five factors to keep in mind when selecting industrial gear oil that will provide you optimum performance and profitability. Each is discussed in this article.
Fluid Cleanliness
Smaller gearboxes must do the same amount of work as, or even more than, their larger predecessors. But spaces are smaller and tolerances are tighter. That translates to higher speeds and loads. The trend toward smaller reservoirs means the system must cycle the fluid more often with less time to dissipate heat, release foam, settle out contaminants and demulsify water.
Constant gear rolling and sliding produces friction and heat. The heavier operating loads common in today's industrial settings increase metal-to-metal contact or boundary lubrication, producing even more heat and pressure. To meet longer drain intervals for environmental and cost reasons, the fluid stays in the system longer. Therefore, fluid cleanliness and performance retention becomes critical.
Highly viscous lubricants generate heat from internal fluid friction and also may consume more power to turn the gears. The rate of oxidation in the fluid can increase, which decreases the fluid's effectiveness and life. In addition, higher operating temperatures increase sludge and varnish formation, which can damage equipment by forming deposits that can block filters, oil passageways and valves. On the other hand, less viscous lubricants generate less heat, minimizing the chance of exceeding recommended operating temperatures or damaging equipment.
Lubricants play a critical role in removing contaminants such as dirt, water, wear particles and other foreign matter that can damage gears and bearings and impact efficient, smooth running of the gears. As the lubricant travels through the filter system, contaminants, which can originate outside the system or from wear inside, should be removed. Even other lubricating fluids that find their way into the system can cause contamination if they are incompatible, thereby reducing performance.
Because they don't move easily through the filtration system, highly viscous lubricants can be difficult to filter. Pressure at the filter can increase and, if sufficiently high, will trigger a system bypass, allowing contaminant-laden lubricant to circumvent the filters. Equipment damage can follow. Worn gears and higher levels of iron in the lubricant are signs of an ineffective filtration system.
Less viscous lubricants can flow more easily through the filtration system. Contaminants are effectively removed, reducing the likelihood of gear and bearing damage, and increasing equipment life. Another benefit is that the lubricant may need to be changed less frequently, resulting in less downtime and cost.
Fluid Durability
Industrial gear oils must be durable enough to withstand in-service conditions and to retain that performance over time. Although many fluids may meet the industry specification when new, they rapidly lose performance while in service. Industrial gear oils formulated for extended durability will keep gears operating properly and protect equipment investment by extending life, reducing downtime, maximizing productivity and lowering maintenance costs.
Industrial gears often operate under heavy loads and require extreme-pressure protection for gear components. Typical industrial gear oils do not always provide high extreme-pressure performance at low-viscosity greases. This challenges the notion that industrial gears performing in harsh environments must have highly viscous lubricants to be adequately protected.
Fluid Demulsibility
It would seem easy enough to keep a gearbox dry, but water can creep into the system, particularly the reservoir, in a variety of ways. Mist from water used in routine plant maintenance can enter the reservoir breather, forming condensation in the reservoir after hot-running equipment cools after shutdown. Or, water may enter in some other way. In any case, it can lead to corrosion and decrease performance.
It is vital for the gear oil to be formulated to quickly separate water at both the high and the low temperatures found in industrial gearboxes. The ability to rapidly drain water from the system helps extend the life of both the component and the oil.
Universal vs. Dedicated Fluids
There are two types of industrial gear lubricants. The first, so-called universal gear oils, are formulated so they may also be used in automotive gear applications. Universal fluids may contain components that are both unnecessary for and harmful to industrial gear performance. Or, they may not contain components that are necessary in industrial applications. For example, water separation is not necessary in automotive gear oil applications. However, water separation is critical in industrial gear oil applications; therefore, demulsibility additives must be incorporated.
The second type of gear oil lubricant is called a dedicated fluid. These fluids are tailored for industrial applications by carefully formulating the lubricant with additive components specifically designed for such applications.
The Right Additives
Additives used to enhance extreme-pressure properties in gear oil can be prone to thermal instability, resulting in sludge formation. However, technology is available that provides the optimum balance of thermal stability for sludge-free gearboxes and also extreme-pressure protection for heavy-duty durability.
The combination prolongs gearbox life, maximizes efficiency and eliminates downtime. But most important, high extreme-pressure performance and cleanliness are maintained across a full spectrum of viscosity grades, down to ISO VG 68. Using a lower-viscosity grade can improve efficiency while maintaining durability for optimum performance.
In industrial settings, equipment downtime significantly impacts the bottom line. A lower-viscosity lubricant with optimized additive technology effectively protects gear-driven equipment and ensures its operation at maximum performance.
Commonwealth Oil has a whole line of high performance Industrial Gear Lubricants, Security. In addition to this helpful article, our lab technicians are best equipped to find the best Gear Lubricant to meet your needs, you can contact Michele at mbreault@commonwealthoil.com to discuss your requirements.